All sorts of random things live here, but not all of them get announced!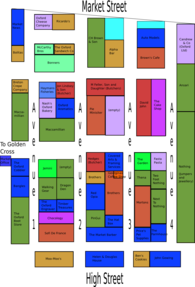 Covered Market Map
I was unable to find a map of the covered market anywhere online, let alone in a format and license suitable to be included in the Oxford OpenGuide. So, I've gone and made my own one :)
It is available under a Creative Commons BY 3.0 license. You can either grab the source SVG, or the generated PNG.
The current version was last updated on: Thursday, 16-Jun-2011 22:35:56 BST.
For those wondering, the colours are a key:
Red - Butchers
Light Blue - Fish Mongers
Light Purple - Deli, Bakers etc
Pink - Cakes and Chocolate
Light Green - Grocers
Yellow - Take Away Food
Orange - Cafe / Eat In Food
Bright Green - Florists
Dark Green - Clothing
Dark Blue - Anything Else
---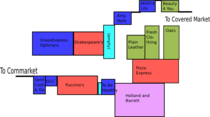 Golden Cross Map
I was unable to find a map of Golden Cross anywhere online, let alone in a format and license suitable to be included in the Oxford OpenGuide. So, like with the Covered Market map above, I've gone and made my own one :)

It is available under a Creative Commons BY 3.0 license. You can either grab the source SVG, or the generated PNG.

The current version was last updated on: Thursday, 16-Jun-2011 22:35:54 BST.

[an error occurred while processing this directive]